FEED your own creativity or SHARE an exciting ART Class with some friends
 Scroll down to see what we have to offer. We also have a CALENDAR VIEW 
Refund Policy: Registering for a class is a commitment. There are no prorations for classes missed in a series. Class Fees are NON-REFUNDABLE.  Only Gift Certificates will be issued in lieu of approved cases.  Safety Policy: Masks may or may not be worn by students and instructors. Although social distancing will be encouraged when possible, there may be times when students and instructors will be in close proximity to each other. If you need special attention, let the instructor know.
Classes at MDCA are held upstairs. There are no elevators. If you have mobility issues, consider an art class or workshop at one of our local art studios. We support accessible art for all.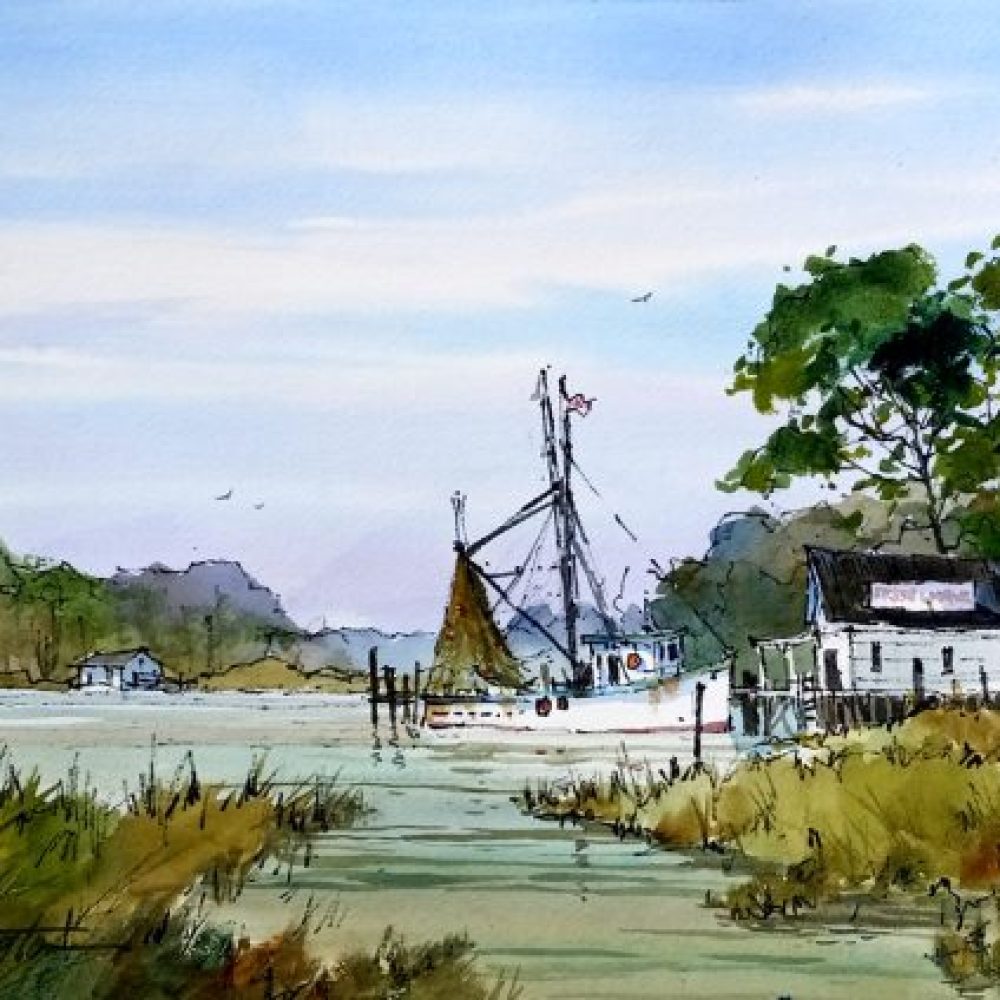 Shrimp Boat 2 Day Workshop Feb 9 & 10, 2023 9:30AM-4:30PM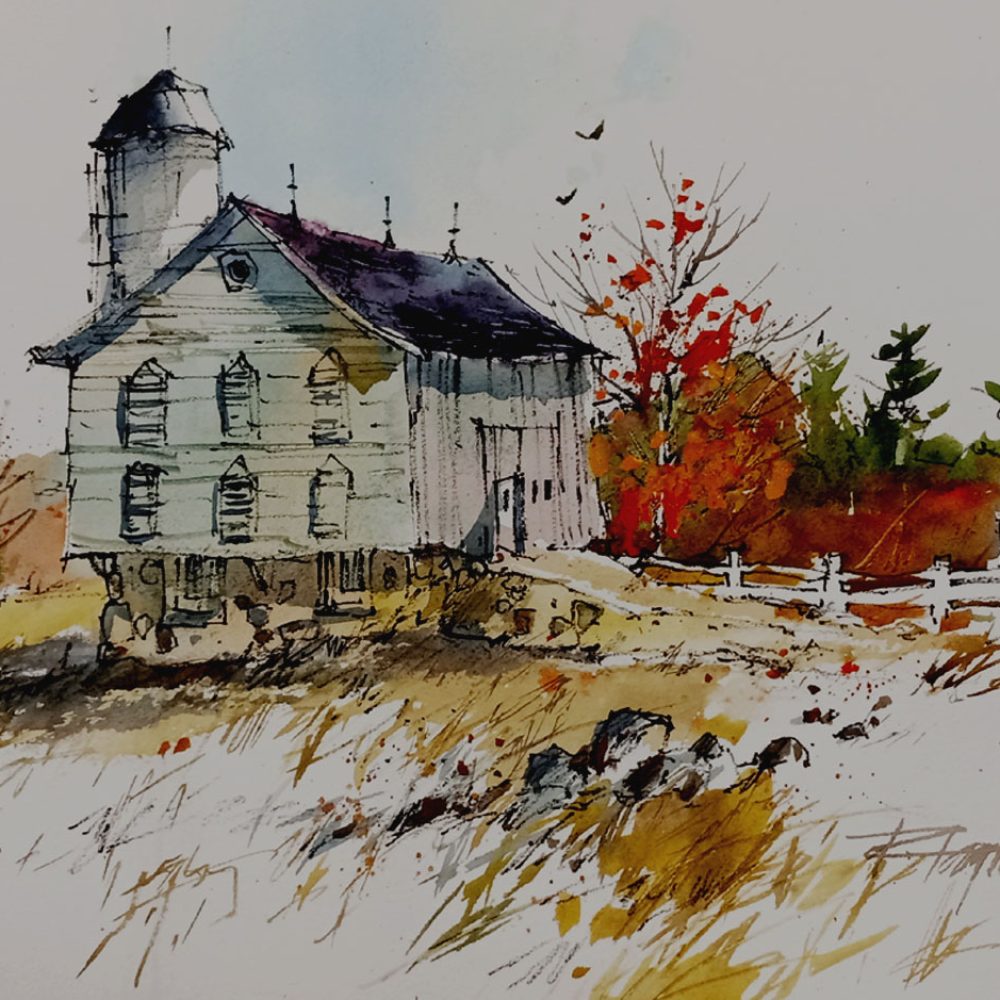 Farmhouse 2 Day Workshop Mar 9 & 10, 2023 9:30AM-4:30PM
Instructor: Paul Allen Taylor
"Finally, watercolor made simple." Line and Wash was once a popular method of creating a watercolor painting. Artists have used many different tools to create entertaining drawings before adding the watercolor. Essentially, the process of making a watercolor painting with a dynamic drawing is easier. The act of painting becomes less laborious as focus is on creating the illusion of depth shape by shape while the ink line provides a clear structure for the image. Paul will share his method of working with damp saturated paper to extend working time and achieve cleaner, more saturated colors.
Day 1 will open with a practice doodle and painting session. In the afternoon a guided drawing of the class painting will take place intermixed with Paul will sharing his knowledge and experience with this approach to watercolor.
Day 2 will be painting day. Paul will work along with you as the painting progresses at a manageable pace. In the afternoon an evaluation period will take place for all works done in the class. Problems areas will be identified, and solutions suggested.
 Students are encouraged to bring their own supplies when possible. See the supplies list for further information.
Recommended viewing: Youtube "Working with Matchstick and Ink" on Paul's channel. Class fee: $140.00 member / $170 non member includes all materials.
Instructor: Paul Allen Taylor
$140 members $170 non-members
2 Day Workshop | Feb 9 & 10, 2023 | Mar 9 & 10, 2023 9:30AM-4:30PM
DATES TBD
Session 1: Mondays 1-3PM   (six (6) weeks)
Instructor: Susan Grogan
$130 members $160 non-members
Have fun while learning how to  paint in watercolor. This class will explore color, composition, and watercolor techniques in this beginner and intermediate watercolor class. Each session is new and different so you are encouraged to take this class as often as you wish.  We will cover all the basics as we enjoy everything watercolor has to offer. All levels are welcome. especially newcomers to the medium. Contact the MDCA for a list of recommended supplies. You are also encouraged  to bring the supplies that you already have.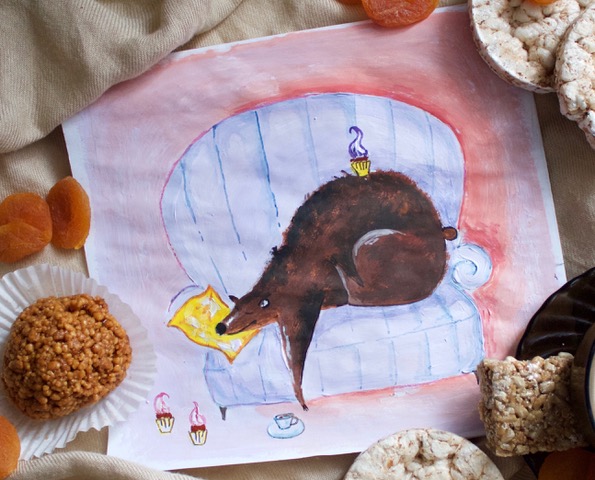 Illustrate! For kids at MDCA
Choose:
Sat Feb 11 9:30-10:30am
Sat Mar 11 9:30-10:30am
Instructor: Mira Fallbeck
$30 members $60 non-members
Instructor: Mira Fallbeck. Drop off the kids and enjoy your Saturday morning coffee downstairs at Foxtail coffee shop. Kids will work with acrylic paint and learn new techniques. $30/member $40/non member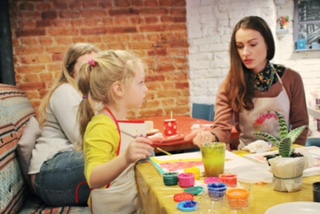 Choose:
Thurs Feb 2 at 9:00-9:45
Thurs Feb 16 at 9:00-9:45
Thurs Feb 23 at 9:00-9:45
Instructor: Mira Fallbeck
$25 members $55 non-members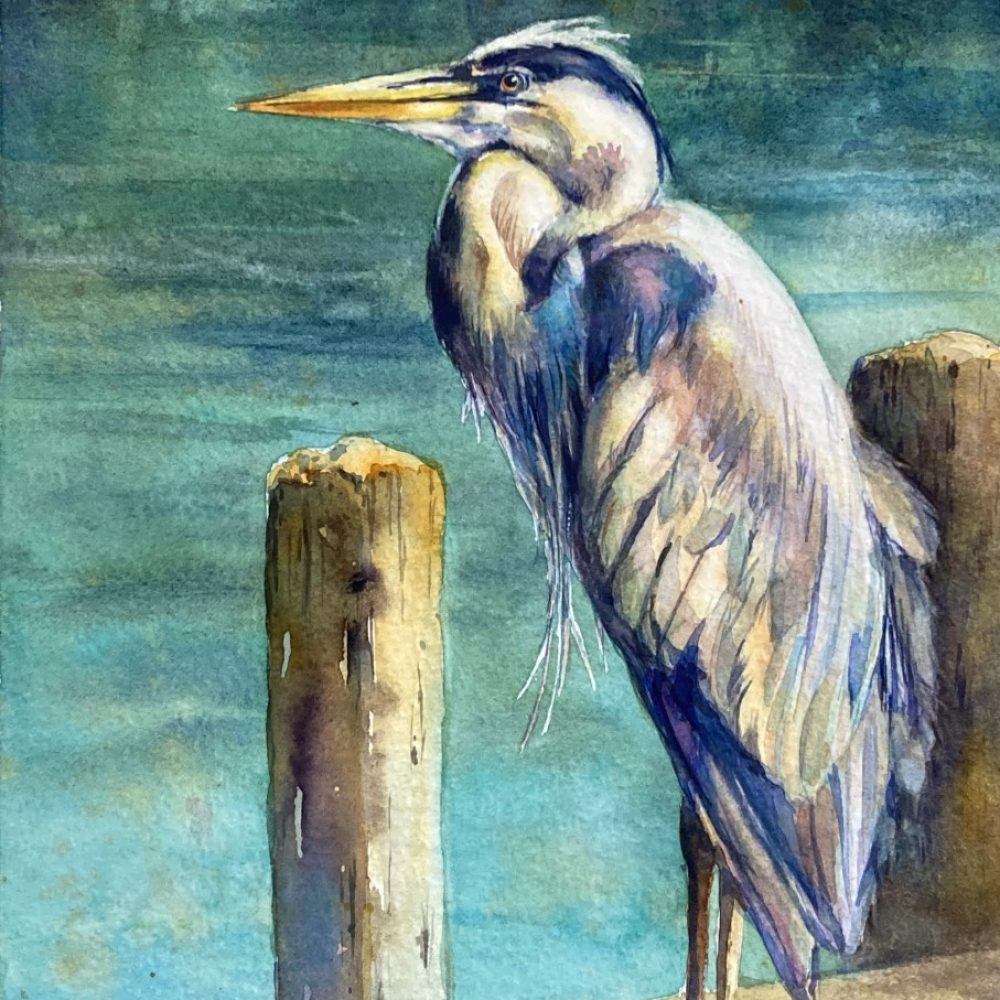 Exploring Watercolors - Intermediate/Advanced
DATES TBD
Session 1: Tuesdays 1-4PM (six (6) weeks) 
Instructor: Susan Grogan
$130 members $160 non-members
Learn to paint with the luminosity of watercolor and further your painting ability. Challenge yourself with new techniques as well as sharpening your skills in basic watercolor. This class will cover value, color mixing, composition, and design. Come explore new ideas and experiences! Students must be pre-approved by the instructor.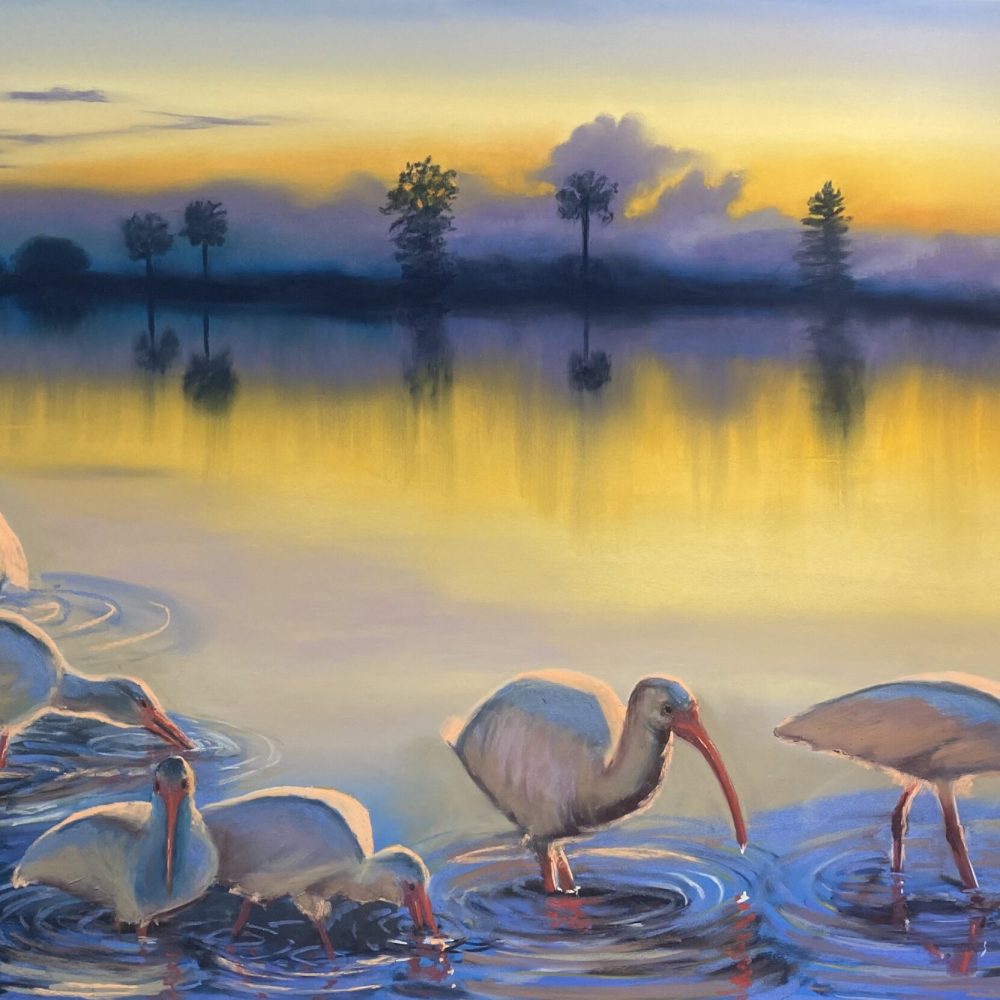 Adding Wildlife into Atmospheric Lake/Marsh Paintings
April 22 & 23, 2023 / 10AM-3PM
Instructor: Shawn Dell Joyce
Instructor: Shawn Dell Joyce Make breathtaking paintings with dramatic light and color like sunset and marsh/lake scenes, then add wildlife (birds, gators, etc) and learn to Match the lighting to make it look like they were there all along! Work from supplied photos to create an atmospheric painting, then choose which critter you want to include. Make value sketches and color studies to plan how the light will wrap around the forms, and create a finished, polished painting. Work from supplied references, individual and group attention. Open to all media, demonstrations in pastel. Materials: Shawn uses Mount Vision pastels along with Rembrandt and some Senellier and Pastels Girault on Ampersand Pastelbord. All participants will get samples of materials to take home, courtesy of the manufacturers. In addition, bring two large surfaces 16×20 or 18×24 to paint on, your favorite media (oil, watercolor, pastel, acrylic) a sketchbook and pencil, eraser and a washcloth or paper towels. Material provided by Ampersand.
Instructor: Mira Fallbeck.Mommy and Me Art classes are a great opportunity to socialize and meet other parents with similar interests, and make new friends with children of similar ages. These classes are great for bonding between you and your little one!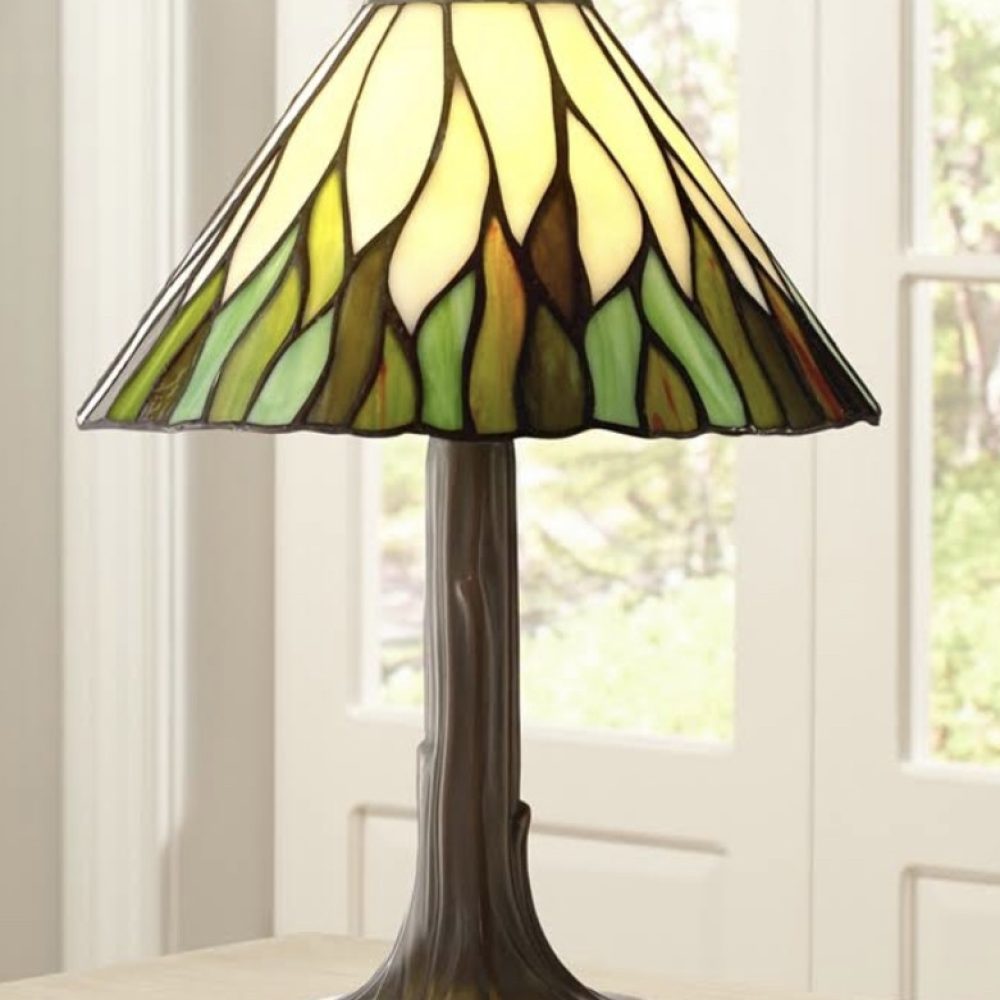 4 Mondays Feb 6, 13, 20 and 27 9AM-2PM
Instructor: Rosemarie Brown
$195 MDCA Member $225 Non-MDCA Member
Must have past experience or completed a beginner class to do this work shop. Each student will learn to assemble and complete a lampshade. Patterns will be available. Students will be contacted in advance before class to help pick design and glass.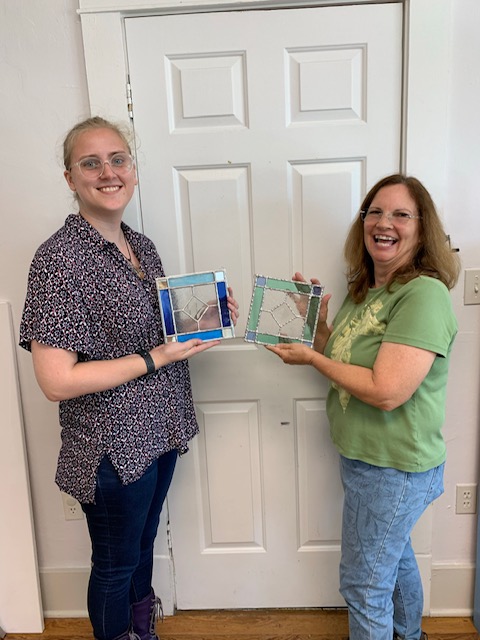 Intermediate Stained Glass
March 16, 2023 / 9AM-3PM
Instructor: Rosemarie Brown
$195 MDCA Member  $225 Non-MDCA Member
Must have previous experience or taken a beginner stained glass class, each student will learn to frame a project in zinc, lead on a border, reinforcement, and decorative soldering.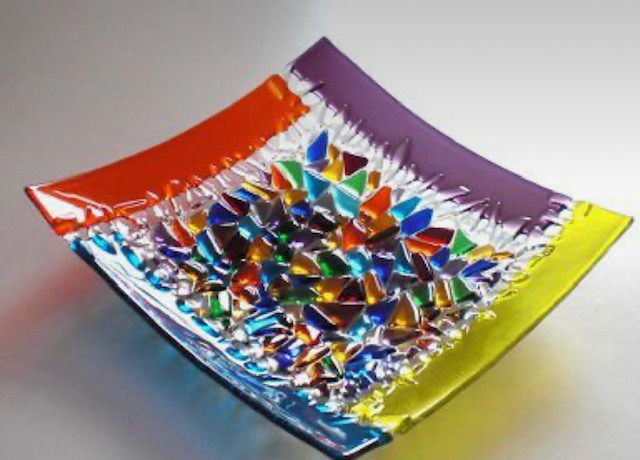 March 24, 2023 / 9AM-12PM
Instructor: Rosemarie Brown
$135 MDCA Member   $165 Non-MDCA member
No experience needed
Each student will learn to cut glass and assemble project ready for firing.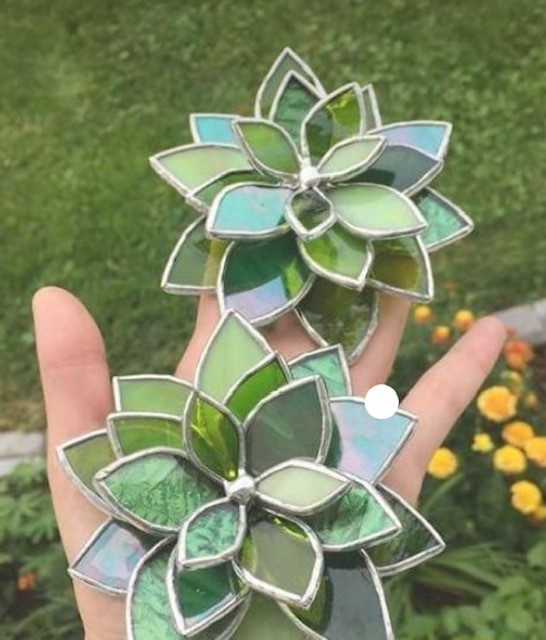 March 30 and 31, 2023 / 9AM-3PM
Instructor: Rosemarie Brown
$175 MDCA Member  $205 Non-MDCA member
Each student will complete a beautiful glass succulent. Some experience required. Students will learn to assemble a 3-d project.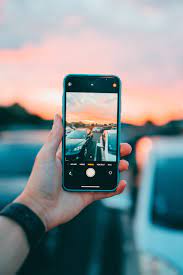 Choose Tues Feb 14/ Tues Mar 14/ Tues Apr 11/ Tues May 9  from 1-4PM  
Instructor: Paul Morris
Instructor: Paul Morris teaches you how to take great photos every time with your iPhone. Join him for a hands-on seminar where you will look under the hood at the features and settings for your iPhone camera. You will to take photo walk in downtown Mount Dora to explore the settings and options, then back in class to learn how to enhance and share your pictures…….
Given that most smartphones have amazing features that most users don't even know about, this workshop will cover the following points:
Hour 1 – In class, learn about camera setup and settings, what they are for and when to use them. How to make better videos with your smartphone.
Hour 2 – Photo walk, using the options we learned in class we will go outside and take a short walk shooting photos along the way.
Hour 3 – back in class we will go over enhancing your photos and sharing options.
$55 members $80 non members
Open Studio Art Room
Tuesdays 9am-4pm This is an open studio session with no instruction. Tables for crafting and Easels available for use. Bring your own materials. $10 each session or $35 for 4 sessions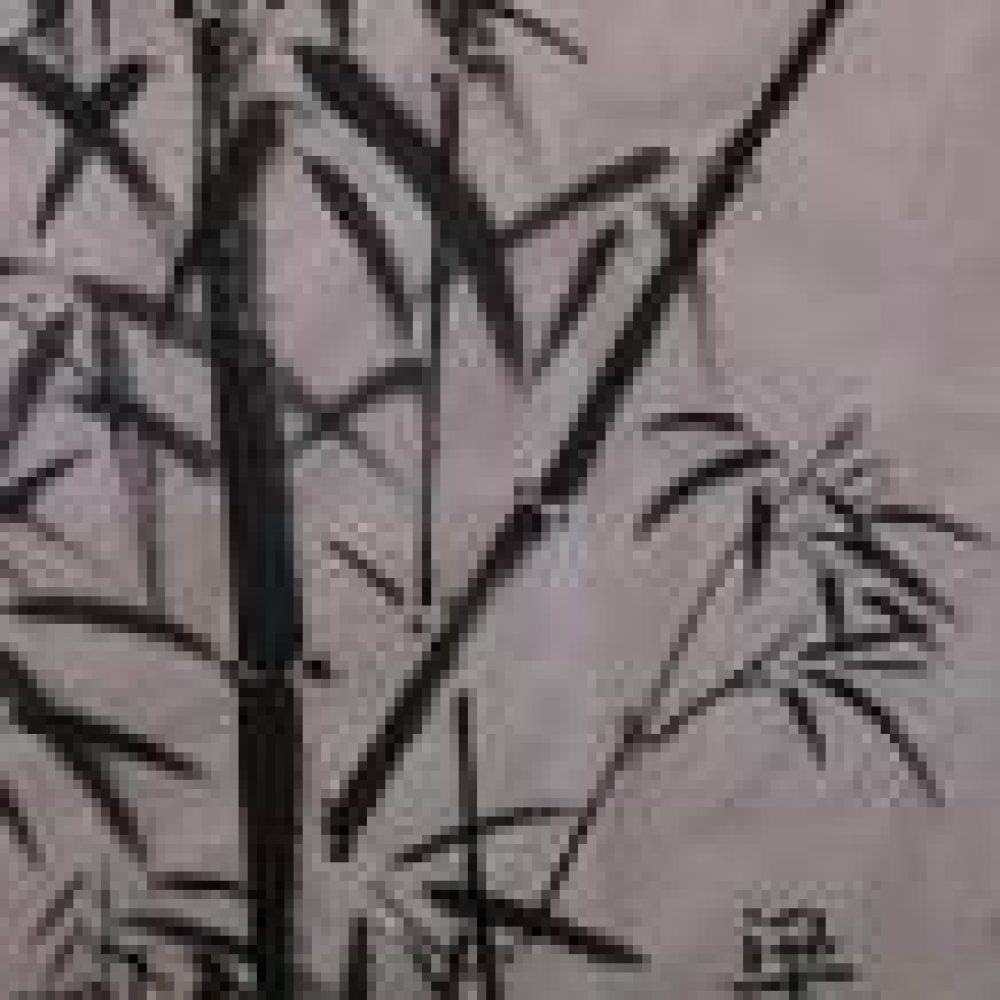 Sumi-e Watercolor painting
Future class date TBD
Instructor: Jane Moody
Instructor: Jane Moody
Skill Level: Beginner The art of Sumi-e originated in China about 6000 years ago as calligraphy and led to a beautiful fluid art style emphasizing spontaneity and life in the brushwork.
$45 member
$65 nonmember
Virtual Musical Theatre and Movement Classes for students with disabilities, age 18 and up
Class Description: With professional instruction from Nanci Dorau, students with disabilities can participate in these weekly classes. This series presents musical theatre & movement with appropriate accommodations so that anyone can enjoy the experience When: T
hursdays, November 10 through December 15, 2022. (no class 11/24)
Time: 5-6PM (EST). Where: Zoom Please contact Karla Aguayo, Director of Programs at
[email protected]
or 813-974-0715, if you have questions.