Photography by Randy Taylor
EXHIBIT CALENDAR
Friday, April 7, 2022 – Opening Reception
Art Talks April 8 and 29 – 1 to 4pm
Join Randy while he discusses the stories and inspiration behind this unique body of work
Tuesday May 19, 2023- Exhibit Ends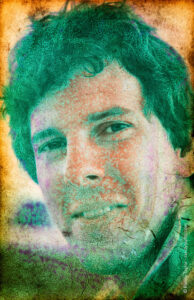 Randy Taylor photograph from the Force of Nature Archives
Samples from the Force of Nature exhibit on display
SERENDIPITY AND THE FORCE OF NATURE
At 21, Randy Taylor was a staff photographer for the Associated Press in Paris. He then went on to the French photo agency, Sygma, in South Florida. Photojournalism took him to over 50 countries, taught him languages, and resulted in national and international newspapers and magazines publishing his images over 100 times each month.
Blessed by serendipity, Taylor's career often benefitted from events beyond his control. His coverage included the Moscow Olympics, the Argentine World Cup, post-Shah Iran, and a shoot-out on the streets of Paris. He traveled with presidents and popes, saw conflicts in El Salvador and Nicaragua, and covered hundreds of other famous people, events and feature stories.  Taylor has documented many natural disasters, too: hurricanes, mud slides, and floods. This archive of thousands of 35mm color transparencies and negatives were stored in a facility in Brooklyn, New York.
In 2012, Hurricane Sandy brought disaster to Taylor's own doorstep. The facility where he stored his images flooded during the storm. Damaged were decades of historical images and generations of family photos. After the flood, various forms of mold and mildew began attacking the transparencies. Taylor recognized that time was of the essence since his work was rapidly deteriorating. So, wearing a Hazmat suit, goggles and a bio-mask, Taylor ventured into the sodden, smelly storage space to rescue what he could. Back in the studio, Taylor acted fast, submerging the rescued images in a 97% alcohol solution, freezing the disintegration at that moment in time. The slides were then scanned, enhanced and printed. The results were truly unique images that blended the destruction Mother Nature had wrought with his own creative impulses. He was able to resurrect a small fraction of his photographs as they were mysteriously changing into works of art by nature's hand. These transformation would never have been created if nature had not brought this disaster to his world.
The largest show of this work to date has been with the Museum Ulm, in Ulm, Germany, which displayed 85 images in three rooms.
In one CBS interview, Randy said of the serendipitous ebbs and flows in his life, "Events happen in life, and we can't
do anything about controlling them. The only thing we can control is our reaction to the events."
View more work and contact Randy at:
RandyTaylor.com