The Art of Spencer Pettit
EXHIBIT CALENDAR
Friday, August 12, 2022 – Exhibit Opens
Friday, August 12, 2022 Reception with Spencer's wife Heather McPherson 6 – 9 pm
Monday October 3, 2022- Exhibit Ends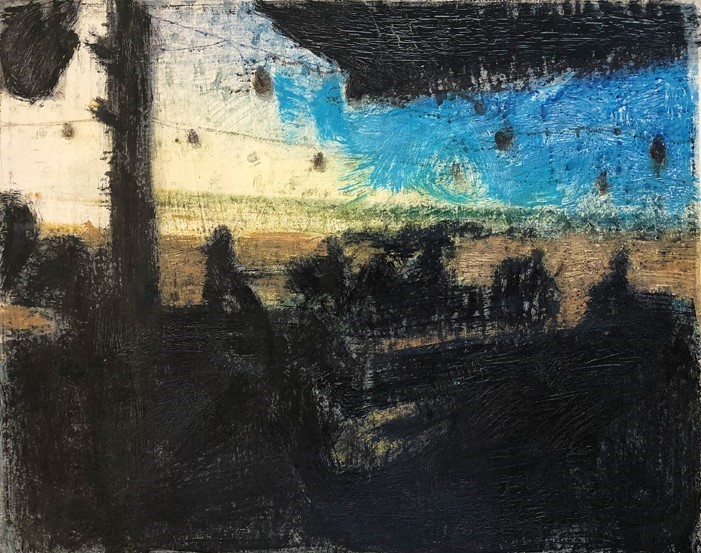 The Sandbar, Anna Maria Island, 2021, Monotype print on paper with overpainting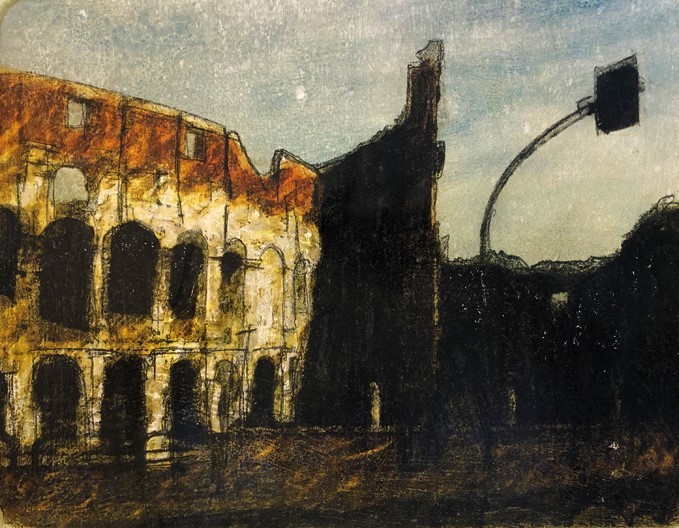 Colosseum Rome, 2021, Monotype print on paper with pen and pencil detail
Purchase a Spencer Pettit original
Artwork can be arranged for pick up at the MDCA gallery after Monday October 3.
Email [email protected] for more information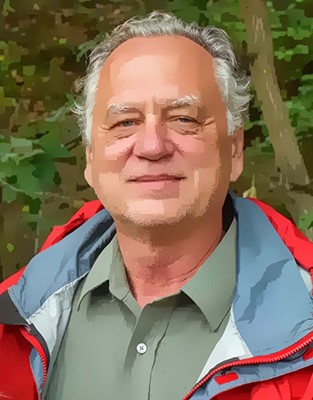 Growing up on the Southside of Chicago, Spencer Pettit was drawn to art when he was 10 years old. Life magazine had just published a special issue on Picasso to coincide with the August 15, 1967, unveiling of an untitled Picasso sculpture in downtown Chicago's Daly Plaza. Seeing the commissioned art, standing 50 feet tall and weighing more than 160 tons, Spencer began to understand that art could be boundless. It could take on many forms and contain narratives that could be based on the personal associations and collaborations he would make throughout his life. Spencer Pettit believed that making art is the act of discovery and the result should always create a scenario that encourages viewers and other artists to look deeper.
Spencer apprenticed with artist Thornton Utz, graduated from Ringling School of Art in 1979 and worked as an Illustrator and Graphic Artist for the Orlando Sentinel until 1985. He spent the next 10 years running his own advertising agency, Spencer Pettit & Associates, and then working as an art director with two other Orlando advertising agencies. His job as an art director overlapped with his personal pursuits as a fine artist, and he began exhibiting work throughout Central Florida including at the Orlando Museum of Art, Crealde School of Art, and the Marie Ferrer Gallery. While still producing his own work, he opened two small art galleries in Mount Dora — Chiaroscuro and Three-Legged Dog. In his final years, he concentrated on fine art and three-dimensional interpretive pieces. His work crosses many disciplines including surrealism, impressionism, realism, and abstract expressionism.
"The process is the destination for me as an artist. Although at first impression, my work may appear to be expressionist or abstract, my work is based in realism, and I think of myself as a process artist. It is figurative, textural, raw, and earthy. I hope to encourage the viewer to look deeper at the work, beyond the initial visual aspect.
"I want the viewer to evaluate the process that created the artwork. It is a constant evolving process of discover and invention. Each work contains elements that carry over to my next work and over time, a common thread emerges that ties the body of work together. "I hope my work evolves beyond the sum of its parts, like a sentence developing into a paragraph, a paragraph into a chapter, and chapters into a book — allowing each stage to become a complete idea.