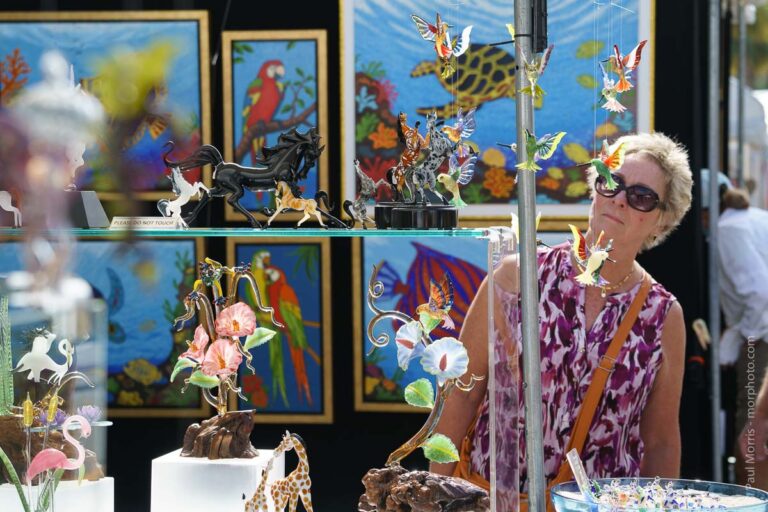 Experience the excellence of the nationally ranked Mount Dora Arts Festival. Held each year on the first weekend in February, 300 juried, fine artists set up to exhibit and sell their unique, exquisite artwork on the streets of downtown Mount Dora, Florida.
The 2024 Presenting Sponsor is G3 Development.  Thanks to their generosity, this event remains open and free to attend.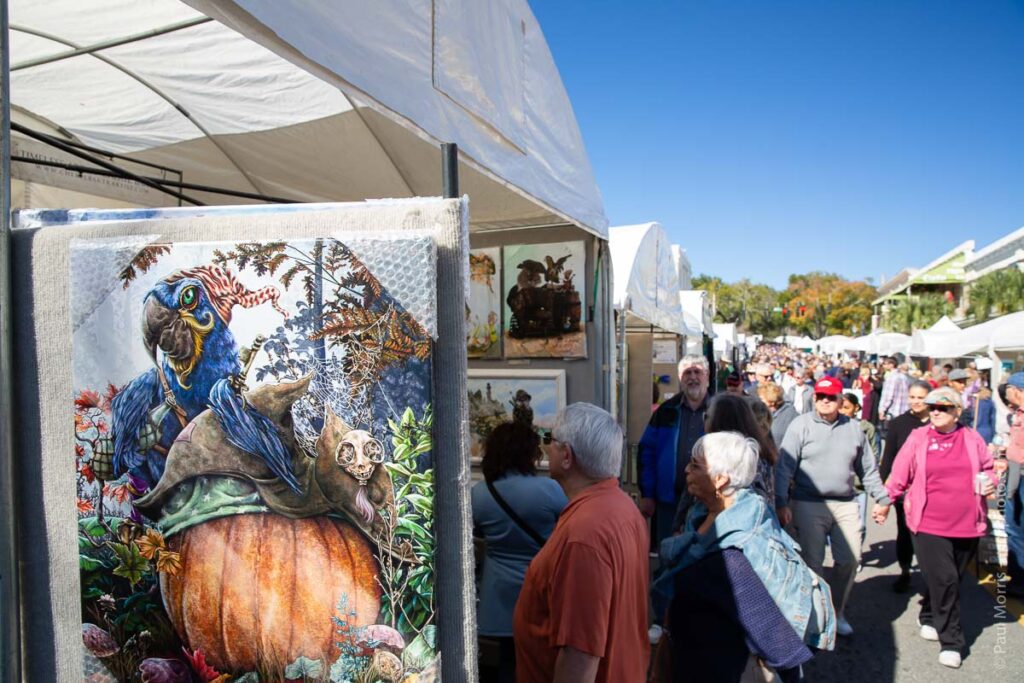 WHEN is the Mount Dora Arts Festival?
The Mount Dora Arts Festival is held annually on the 1st weekend of February. The next event will be held on Saturday February 3, 2024 from 9am to 5pm and Sunday February 4, 2024 from 9am to 4pm.
WHERE is the festival held?
The festival is held on the streets of the historic walking district of downtown Mount Dora, Florida. You can GPS  510 N. Baker St, Mount Dora, FL to get close to the event. Once you see the barricades and tents, you know you have arrived.
No, the event is FREE to attend. The Mount Dora Arts Festival is hosted by Mount Dora Center For the Arts, a non profit 501(c)3. There are DONATION boxes around the event area. PLEASE DONATE to help support the event while you are there.

NOW through April 30, your donations designated to MDCA will be matched with 15% from United Arts of Central Florida. 
 THANK YOU for supporting Art in our community!
Well behaved pets are allowed at the event but you are encouraged to leave Fido at home. The streets can get crowded and your dog may become uncomfortable. Some visitors are intimidated by dogs so be considerate of how your dog might be perceived by others. We want everyone to have a good experience at the event.
Is the event HC accessible?
Yes. The event is held on the streets of downtown Mount Dora, FL.  HC parking is available behind City Hall at 510 N.Baker St.  Spaces are limited. TIP: Your chances are better on Sundays or late in the day. The festival can be heavily attended during mid afternoon.
Do you have wheelchair/stroller rentals?
Sorry, wheelchairs, scooters and strollers are not available to rent at the event.
What else will there be besides Artist & Crafter booths?
There will be live music on Sat and Sun in Donnelly Park where you will find great festival food. Beer, wine and cocktails can be purchased at kiosks around the event area and carried around while you enjoy the beautiful art. Local shops will be open during the festival so take some time to explore the sidewalks too!
Parking can be a challenge in historic downtown Mount Dora. Take the Shuttle offered at the empty lot located at 900 LINCOLN AVE Mount Dora, FL. (There are NO Shuttles from Mount Dora High School) You can also look around for residents parking cars in their yards. They typically charge a fee but its worth it to get close to the event.
Tour Buses have a dedicated route to drop off/pick up guests and a remote lot location to stage and wait. Click HERE to get the bus route map.
Yes there will be ATM's set up in various locations inside of the event. Many exhibitors accept credit cards but with limited internet availability, having cash on hand is a good idea!
Face painters, henna artists, entertainment buskers and balloon artists may participate in the event but there is no designated kid zone.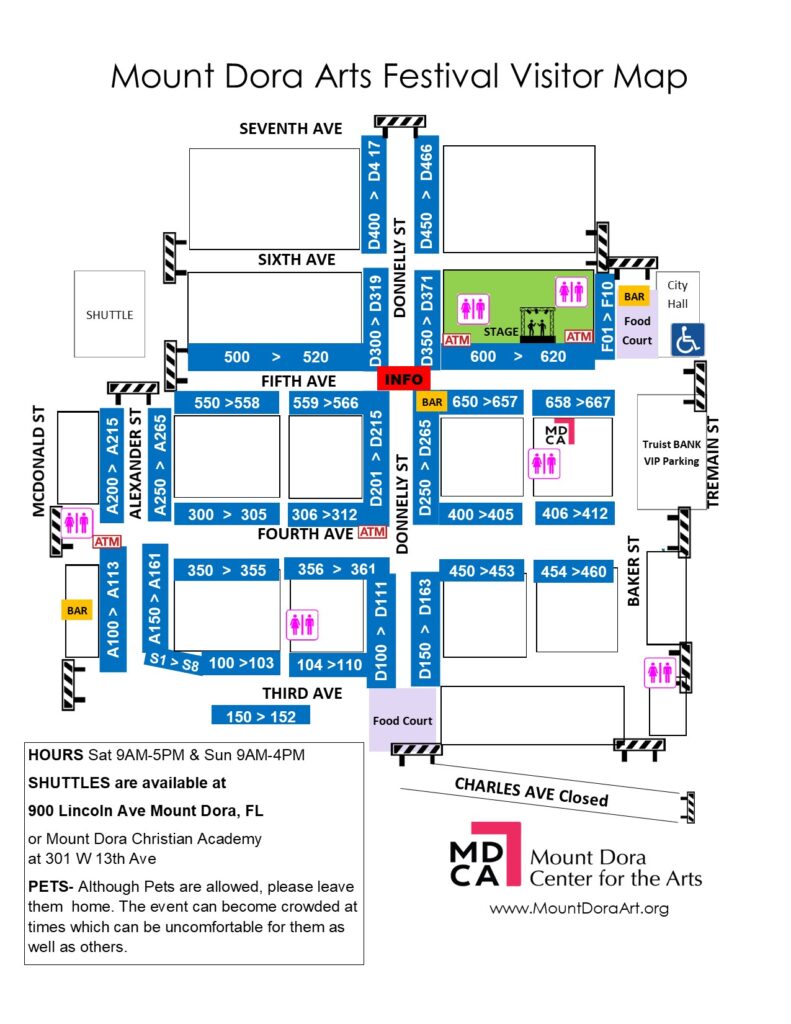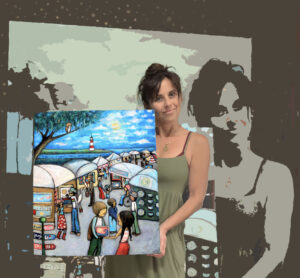 My collection of work encapsulates a childlike spirit. Whimsical landscapes, woodland creatures, finding love and finding self are common themes in my paintings. Using acrylic paints and mixed media I create pieces with calm resonating colors and a touch of nostalgia. A personal touch is added using stylized characters that give space for others to find their own personal connection in each painting. Every piece tells a story, and the story is different for each viewer.
I paint daily in my home in Asheville, NC. I have been creating art for 20 years, selling at art festivals across the southeast and displaying at my favorite local galleries. I am beyond grateful to have found this meaningful way of living.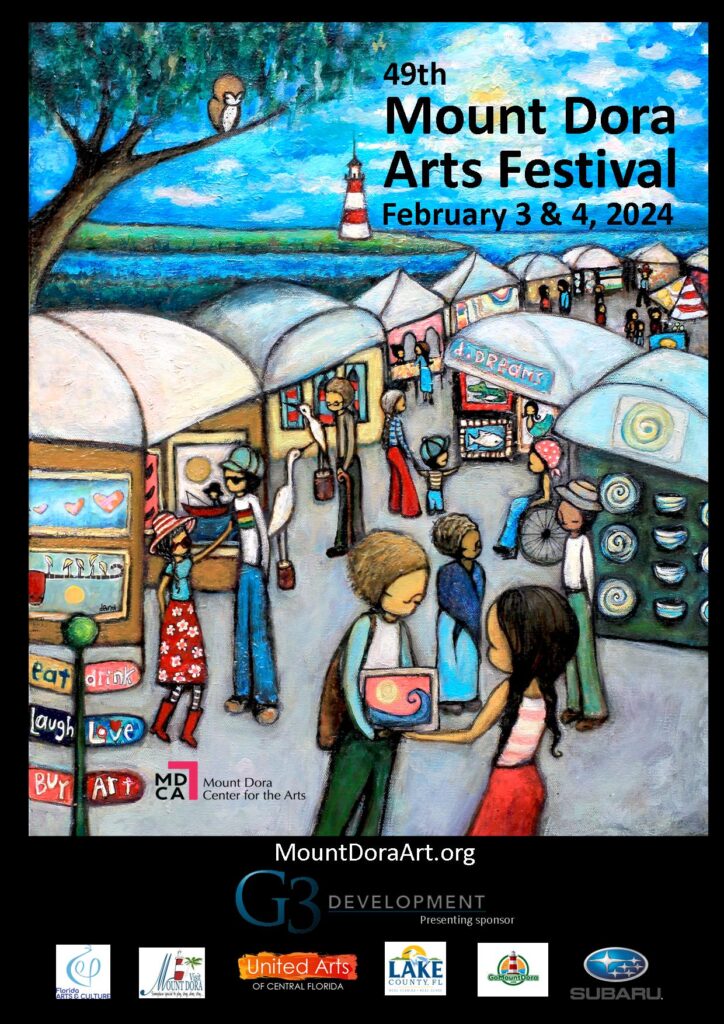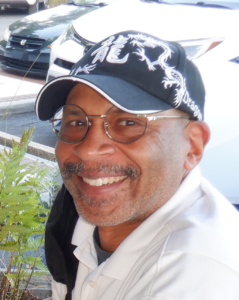 Shiniko Floyd, or Niko, as he is more commonly known, grew up in Southeastern Virginia. His creativity was encouraged by both of his parents and after graduating from Warwick High School in Newport News, he went on to graduate from Virginia Commonwealth University, in Richmond, with a degree in commercial art and design.
After graduating, Niko worked at local advertising agencies as a freelancer for several years before he, quite unexpectedly, landing a job at the local newspaper, The Daily Press. He worked at the Daily Press for several years before being transferred to the Orlando Sentinel, another Tribune newspaper. Altogether, Niko spent almost 28 years working in the newspaper industry as a news artist.
Niko's time in newspaper taught him the value of versatility. The job required him to be an illustrator, designer, cartographer, researcher, reporter and more. Unlike when he started, today, most newspaper work is digital, done on computer, whether illustration, designer or maps. 
In 2019, Niko received the Artistic Endeavors Award, for his skill, diligence and creative energy that has consistently been on display in the community. 
He currently works as a graphic designer for OATA, and still attends life drawing classes and workshops to improve and broaden his traditional drawing and painting skills.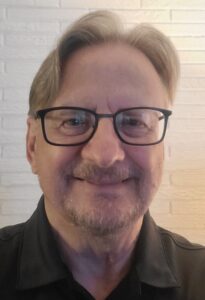 Daniel E. Stetson has over 40 years of executive museum, education, and curatorial leadership experience, including at public and private universities, government-based and private not-for-profit organizations. Stetson recently retired from the position of Executive Director of the LSU Museum of Art where he served for six and a half years. He more than doubled the photography collection holdings, began a significant collection of American studio ceramics, which has significantly diversified the collection holdings and permanent collection galleries. The exhibitions' program was broad in scope and inclusive in its content.
Before coming to LSU, Stetson served as executive director of the Hunter Museum of American Art in Chattanooga, Tenn. Prior to that, he was the executive director of the Polk Museum of Art in Lakeland, Fla., for nearly 15 years. While there we initiated the Florida Outdoor Sculpture Competition, a national project. He has been a judge for many art festivals and competitive exhibitions and projects. He Has served on major sculpture commission competition committees and grant and art review committees.
Stetson holds a BA in Art History from the State University of New York at Potsdam where he also studied studio art/photography and literature. He holds an MFA in Museology [Museum Studies] from Syracuse University and is a 2010 graduate of the Getty Museum Leadership Institute at Claremont Graduate University in Los Angeles. He has been active in his field regionally and nationally, serving on numerous museum association boards, grant committees, community committees, art juries, public art projects and as an AAM accreditation team member. Stetson served as President for both the Florida Association of Art Museum Directors and the Florida Association of Museums. He stays active in the arts and curatorial field. Currently he serves on the art selection committee for the Mount Dora Center for the Arts and as advisor to the Winifred and De Villo Sloan, JR Charitable Fund. Stetson has worked in the arts and museum field in New York, Iowa, Texas, Florida, Tennessee, and Louisiana. Stetson believes that all art is local, and that great art happens everywhere.
TOUR BUS ROUTE & STAGING MAP