Nationally ranked Arts Festival is set for Feb 4 & 5, 2023
Mount Dora Center for the Arts will host almost 300 juried, fine artists from all over the country at the highly anticipated, two day event.

MOUNT DORA, Fla. – Jan. 19, 2023 – The annual Mount Dora Arts Festival was started 48 years ago by a group of art loving citizens looking to share their artwork with people in the local community. Today, the event is run by Mount Dora Center for the Arts and features hundreds of fine artists from around the country.
MDCA's Executive Director, Janet Gamache says, "The festival is now a nationally ranked, juried fine art show that draws visitors looking to see and purchase one-of-a-kind art directly from the artists. The wide variety and beautiful work seen at the event is consistently excellent, so people return to check out what's new every year."
Artists from as far away as Washington state will compete for more than $15,000 in cash prizes in 2D, 3D and Best in Show categories.
Gamache says "We are excited to host such phenomenal talent this year! People will be amazed. Also, another great bonus is our collaboration with performing art organizations like the Central Florida Ballet and Mount Dora Capoeira who will showcase their artistry in Donnelly Park during the weekend."
Some tips to navigate: Avoid the downtown traffic and take the free round-trip shuttle located at 900 Lincoln Ave Mount Dora, FL. Kiwanis will be collecting a fee to park but it's worth the time you'll save trying to find a parking space.
Although most artists take credit cards, Gamache advises to bring plenty of cash. "With so many people online at the same time, the pay apps often can't secure the signal."
Pets are also allowed but discouraged since the crowds can make both dogs and some people uncomfortable so leave them at home if possible.
Festival food, beer, wine, and cocktails will be available at kiosks though out the festival and restaurants will be open for sit down dining.
Proceeds from the event support MDCA's art outreach program and provides scholarships to children for art education. The festival runs Sat Feb 4 from 9am-5pm and Sun Feb 5 from 9am-4pm and is FREE to attend. Get more info at www.MountDoraArt.org
See the 2023 Mount Dora Arts Festival promo video HERE.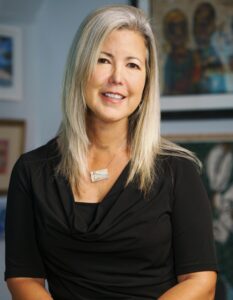 A New Year with a New StART
A letter from the Executive Director
After a year of navigating the exciting complexities of MDCA as the Interim Executive Director, I accepted the position permanently in Spring 2022. With an extensive background in marketing and events with various nonprofits as well as Harvard Kennedy Executive Education in nonprofit management, I am committed to the success of MDCA and supporting Art and Artists in our community. As we get ready to break ground on a new building in 2023, expect MDCA to reimagine its position in the community to become a world-class gallery and the hub of support for artists, local studios, and performance art events in our area. I look forward with great anticipation to the year ahead, meeting and working with friends and artists in the community, old and new. Happy New Year! Here's to a new stART!
Janet Gamache MDCA, Executive Director
Local Art Center Paints Bright New Future With Change
A new Board president, building and Executive Director are part of Mount Dora Center for the Arts favorable new growth plan
MOUNT DORA, FLORIDA, UNITED STATES, April 5, 2022 /EINPresswire.com/ — Mount Dora Center for the Arts (MDCA) announced today that positive changes are underway at the center. The not-for-profit released new information regarding a new Board president, the sale of their building and their search for a permanent Executive Director.
Established community leader Cathy Hoechst was voted in unanimously as MDCA's new Board president in March. Hoechst is the former mayor of Mount Dora and her extensive and ongoing work with multiple organizations will add a level of experience to successfully lead the center.
Hoechst says, "We are excited to announce that the sale of our building has closed. We have outgrown our current location and look forward to expanding into a newly built, state of the art facility in the next year."
The iconic art establishment isn't going far. Hoechst says, "We aren't leaving Mount Dora. The new building will be built directly behind our current location at 138 E.5th Ave in the heart of downtown Mount Dora on Royellou Lane. "
MDCA's new facility will feature 4000sf, two floors, flexible classroom space and a rooftop event area. Construction is set to begin this summer.
Other notable news at MDCA is the announcement that Janet Gamache, the acting Interim Executive Director since October 2021 has accepted the board's offer to serve as the center's permanent Executive Director.
Gamache, who is well known in the community for her roles in marketing at Visit Mount Dora, a not-for-profit organization that works to attract visitors to town, as well as being a local business owner, led two annual fundraising events at MDCA during her interim role that resulted in record breaking profit for each event.
MDCA's largest fundraiser, the Mount Dora Arts Festival is held in February each year. As many as 300 juried artists from around the country show up to exhibit, sell and compete for cash awards on the streets of downtown Mount Dora, FL. It attracts more than 100,000 visitors each year and takes dozens of volunteers to manage. Gamache, already a nationally ranked festival coordinator said it ran smoothly and without a hitch.
"Coordinating people and projects is second nature to me. Having the opportunity to work doing what I love to do, support the arts, and in the community that I call home is a dream." Gamache adds, "Art education and giving everyone and anyone the chance to experience artistic creativity is the mission of MDCA. Through successful fundraising, we will continue to offer thoughtful exhibits in our gallery and showcase world class artwork at our annual Arts Festival free of charge." MDCA also awards scholarships to children of financially restricted households to experience creativity through art classes and Art Camp every year.
Registration for Summer Art Camp is now open for enrollment. To register or to sponsor a child for the 2022 season, go to www.MountDoraArt.org.
Mount Dora Center for the Arts is an IRS Approved 501(C3) not-for-profit whose mission is to inspire curiosity, support creativity, and enrich lives through art, exhibits, and education.
For more information, please contact Board President Cathy Hoescht at (352) 383-0880.