Artist Set Up Information
Hello Artists,
Here is the set up information for the 49th annual Mount Dora Arts Festival to be held on Feb 3 & 4, 2024.
NOTE the TRAFFIC FLOW Map. ALL traffic will enter through Donnelly St and flow north out of the event area.
PASS & MAP:
FIND your Booth Number, Entry Animal and Parking Lot on the attached Artist List (Not Available Yet)
FILL IN the information on your pass.
Bring the pass with you.
CHECK IN: You Do NOT need to go to "Check in" if you bring your printed PASS with you. You must have your pass to enter the event area.  If you forget or need a pass printed, you can get one at Mount Dora Center for the Arts 138 E 5th Ave, Mt Dora, FL on Friday 2-5pm or Sat 6-8 am.
PARKING: Your PASS must be clearly displayed on your vehicle dashboard or affixed to your trailer when parked.  Vehicles and trailers without passes are subject to being towed! We do not monitor lots so be respectful and only park in your assigned lot.
Overflow parking is in Lot 10 if you find your lot full or need to park your trailer. There is a concrete slab in the grassy park near the water to park your trailer.
Overnight sleeping in your vehicle is PROHIBITED downtown. If you plan to dry camp, the map and pass will be emailed separately to those of you who purchased the $75 RV pass. FYI, the area is not close enough to walk to and from and there is no shuttle so plan accordingly.
FRI DOLLY OPTION: If you can Dolly-in (walk your items) from your assigned parking lot on Friday, you can avoid the vehicle load in traffic that starts at 5PM.  You must be in your assigned parking lot before 4:30 pm or you will need to wait until the time listed on your Exhibitor/Parking Pass and enter with the other vehicles. You do not need to tell me that you plan to Dolly.
If you determine the lot is too far when you arrive, simply proceed to the vehicle ENTRY POINT at your Assigned Time with your vehicle.  
 If you choose Dolly -In, you will be allowed to walk your items to your booth space. Keep all items OFF the road against the curb. Once the Police give us the "All Clear" you will be allowed to start set up at approx. 5:00 pm.  Do NOT start your set up before the all-clear is given or you will be asked to tear it down.  
SAT SET UP:  Anyone can drive in on Sat and Sun to drop items between 6:30- 8:00 am.  You do not need to Dolly on Sat & Sun. Please have your vehicles out of the event area by 8:15 am Sat and Sun. 
TRAFFIC FLOW: Do NOT turn around or backup once inside the event area. If you miss your space, continue out of the event area and go back to the entry point. Your assigned Parking area may be in a place that seems logical to back up or get to by going in the wrong direction on your map. DO NOT go against the traffic flow. Be calm and follow the path out and around the event area to get to your parking area.
Do not set up while your vehicle is in the event area if at all possible. Streets are tight. Please unload your items to the curbside, go park your vehicle in your assigned lot and return to finish setting up.  If you need to unload and set up at the same time, be courteous and try to arrive later when traffic is clear. There is no cut off time for setting up at night.
 CENTER your booth on the number on the curb at the back of your booth.  Even one booth in the wrong place will disrupt the row of booths and you will be asked to move it if you are off center.
 WEIGHTS:  Be sure to secure your tent for up to 40 mph gusts. Staking of tents is NOT allowed anywhere in the event but your tent must be properly secure with blocks, sand bags or other weights. There is a $100 fine and risk of being passed over for future events if we need to protect other artists from your thoughtlessness.
 VOLUNTEERS:  There will be students and some adults walking around to help with set up Fri/breakdown Sun. They will be wearing Arts Festival T-shirts or safety vests. Flag them down if you need help.  Booth Sitters will be walking around with paddles on Sat and Sun if you need a break.
JUDGING and AWARDS: Begins on Sat morning at 9AM. Winners announced in Donnelly Park on Sun at 8:30AM. Cash winners over $600 will need to fill out a W9.
DONATIONS: Mount Dora Center for the Arts is a nonprofit 501(c) 3 dedicated to supporting art  through events and education. If you would graciously donate an item to one of the volunteers who will collect on Sunday, it would be immensely appreciated. This is optional. The items will be placed in auctions at our annual fundraising events. It is also a great place to have your item showcased in front of art lovers in our area so provide extra business cards with your contact information.  A receipt will be provided to you. Text me if you have a large or fragile item 352-217-8390
Vendor only Bathrooms, coffee and water will be provided at the MDCA gallery (138 E. 5th Ave) for artists on Sat and Sun. Complimentary coffee can also be found at Village Coffee Pot on Donnelly St and Foxtail Coffee on 5th Ave. Identify yourself as an artist. 
BREAK DOWN: The show ends at 4PM on Sunday….not a minute before. We will let vehicles in once the streets are cleared of pedestrians and police give us the all clear.
If you have any questions or concerns before or during the event, you can always call me directly at (352) 217-8390. I wish you all the best show ever!
 Sincerely,
Janet Gamache
 Mount Dora Center for the Arts Executive Director and Festival Coordinators
Sorted by LAST NAME. Find your ENTRY POINT ANIMAL. Leave blank if on Donnelly (D-), SET UP TIME if you choose to drive in and drop on Friday, PARKING LOT, and BOOTH SPACE.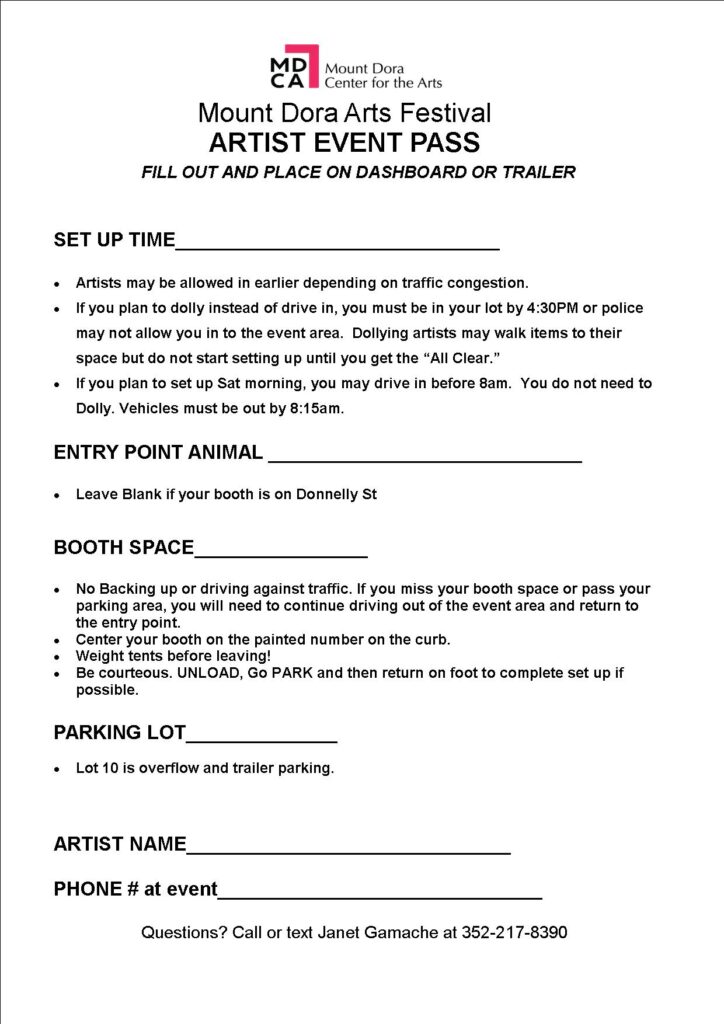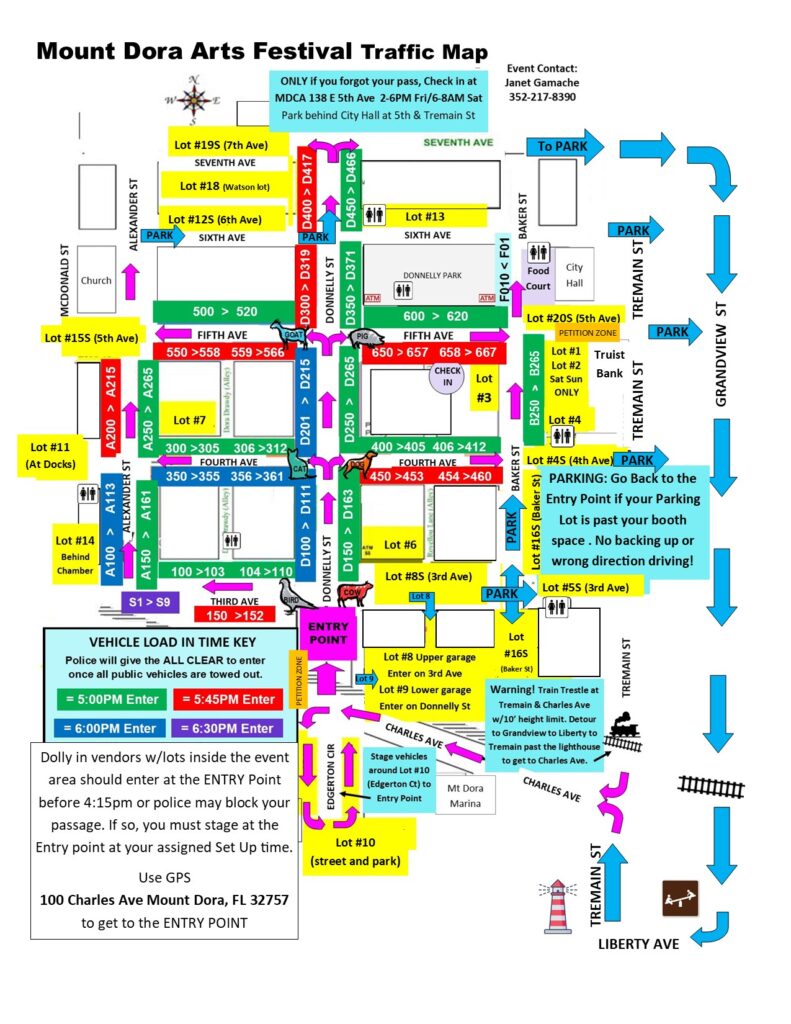 Mount Dora Arts Festival Artist Agreement
By participating in this event, you agree to the terms of this agreement
RULES AND REGULATIONS
• Acceptable work is limited to original art created and presented by the creating artist.
• Reproductions must be signed and numbered. This notice must appear on the front of each item. All
reproductions must be displayed in browse bins and placed to the back of your booth!
• Objects assembled from kits, pre-carved or pre-molded reproductions, manufactured parts, buy-sell,
commercial displays and the like are not acceptable. Final interpretation of commercial status will be
made by MDCA. MDCA shall have the sole, exclusive and final authority to determine a work &
acceptability for display within the Mount Dora Arts Festival. A work determined to be unacceptable
must be removed and may not be displayed to the public within the Mount Dora Arts Festival.
• Only artists selected by MDCA may exhibit work within the Mount Dora Arts Festival. All artists listed
on the application must be present, oversee their exhibit at all times and display their work for the
duration of the show. Assistants (including family members) are welcome, but NOT in place of the
artist.
• The work of one exhibitor may be displayed in each assigned space. Booth sharing is not permitted with
the exception of collaborating teams. Collaborations must be artistic rather than business. A team
producing a single product may qualify as a single exhibitor; however, teams may consist of no more
than two persons, both names must be on the application, and both persons named must be present. Only
works produced by the team may be shown.
• Images and booth shot submitted for consideration must be representative of the works that will be
exhibited in the Mount Dora Arts Festival. Our committee will view booths with images in hand several
times during the show. If exhibited work or booth display differs significantly from the images
submitted, the artist will be asked to remove unacceptable work and/or rework booth display. Continued
infraction of this policy will result in the artist being asked to leave and forfeit fees. The artist will not be
invited back to the Mount Dora Arts Festival.
• Artist set-up (including inventory and personal materials) must be contained in this space.
Booth/Display set-up must be completed by 9:00 A.M. both days of the Festival. You are required to
display the official Booth Card provided by MDCA in the FRONT of your booth. NO EXCEPTIONS.
Artists are encouraged to display an informational statement concerning their work and process.
• Masks, social distancing and use of hand sanitizer is strongly encouraged to keep both artists and guests
safe during the event.
• All sales tax due is the responsibility of the artist to report and pay to appropriate governing tax
authorities.
• ARTISTS AWARDS- Ceremony on Sunday 8:30am in Donnelly Park
Best of Show – $5000 Purchase Award/ $2500 Cash alternative
Judges Choice 2D – $1500
Judges Choice 3D – $1500
5 Awards of Excellence in 2D – $500 each
5 Awards of Excellence in 3D – $500 each
WAIVER
I have read the rules governing the Mount Dora Arts Festival and agree to abide by them. I do hereby release
and hold harmless the Mount Dora Center for the Arts, Mount Dora Arts Festival Committee, and the City of
Mount Dora of and from any and all manner of actions, suits damages or claims whatsoever arising from any
loss or damage to my property or anyone's property in my possession or supervision.