OPENS THANKSGIVING WEEKEND

MDCA Gallery presents "Immersive Botanicals", photo-realistic large scale canvases painted by Susan Martin.
EXHIBIT DATES: Nov 24 to Dec 24, 2023
There are two chances to meet the artist, don't miss it!
MEET THE ARTIST: Saturday, Nov 25, 1-4 pm. Susan will be on hand to answer questions about the exhibit and discuss what inspires her to work on these large-scale canvases.
ARTIST RECEPTION: Friday Dec 1, 5-8 pm, refreshments will be served.
Examples or artwork from Susan Martin
See more of Susan's work on her website HERE.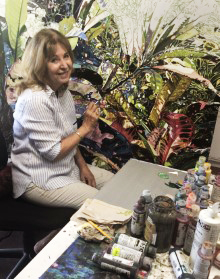 Artist's Statement: Stepping Into Memory
I have very personal childhood memories of leaving my noisy siblings behind and wandering through the Mesquite woods behind my home, often accompanied by a cat that seemed to understand our destination. Our explorations revealed a world of grasses, lichen, and umbrella-like tree castles populated by mystical beings. It was alive with birds, insects and lizards, camouflaged and watching, sensed more than seen.
Those times were private, spiritual, never put into words. It was a surprise when I first recognized in my own botanical paintings, like a deep breath, the familiar peace that washes over me when stepping into the green of trees and undergrowth, where life is on a different scale, unsupervised by humans. In the quiet I can hear birdsong, the rustle of insects and lizards among the leaves, and I am once again in the umbrella-like tree castles of long ago.
Contrary to traditional landscapes in which the viewer is an outsider, I invite you to step into my paintings, to experience the intimate details of limbs and vines, leaves and grasses, to notice the play of light and shadow, to feel the movement of air on your skin, to hear the sound of life breathing, and, perhaps, remember.